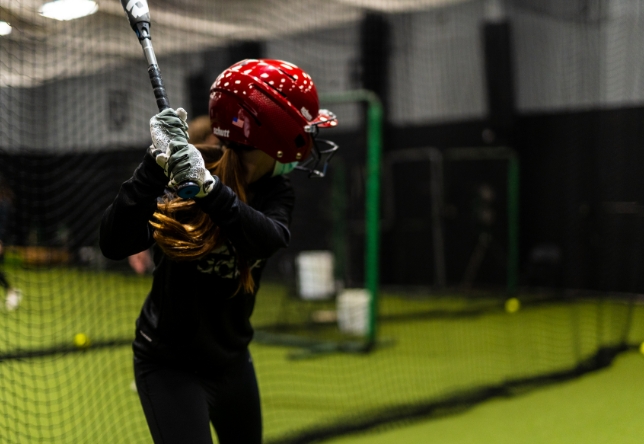 SOFTBALL UNIVERSITY COLLEGIATE PROGRAMMING
Softball University is excited now to offer programming for Collegiate level or bound athletes! These programs have been designed with incoming or current collegiate softball players in mind, allowing players to continue to stay game ready and hone in on their skills in live scenarios in preparation for their next season. Our introduction to the collegiate world is our brand new program: Live Hax with HitTrax.
INTRODUCING LIVE HAX WITH HITTRAX
Competitive athletes understand the off-season is where the real work happens. Spend your summer with Softball University and our staff of former collegiate players at our Live Hax with HitTrax program. Whether you're an incoming freshman looking to make your mark, or a returning player desiring to make a big statement next season, Live Hax with HitTrax brings the unique experience of merging live reps with the use of HitTrax technology. This will allows athletes to access important metrics and see instant results every step of
the way!
Why Live Hax with HitTrax?
For Pitchers…
Pitchers will have the opportunity to perfect painting the corners of the strike zone, re-creating a game like scenario by pitching to live batters, or expanding your arsenal of pitches.
For Hitters…
Hitters will be able to focus on reaching your highest exit velocity, being more aggressive early in the count, improving your strike zone awareness, or executing your plan in the box.
1-on-1 Action…
Anyone who has experienced it knows that there's nothing like getting on the bag or stepping in the box. For pitchers, it's just you and the hitter, and for hitters it's just you and the pitcher. Live Hax recreates these crucial moments so that athletes can rise to the occasion whenever it matters most.
Camaraderie
Our collegiate programming is about skill progression as much as it is about building a community. Get around like-minded athletes and forge relationships that will make an impact on and off of the diamond!